New Vegan Fine Dining in Colville, WA.
     The town of Colville celebrated the grand opening of the cities first vegan restaurant, "Eden's Tree of Life" on Dec. 11th. After the ribbon cutting commenced, I had the pleasure of sitting down with Eden's owner, Anthony James, to get the story behind this unique and beautiful new restaurant. Anthony and his wife Shareeta, fell in love with Northeast Washington, as so many do, after a visiting the area in spring 2017.  It wasn't long after returning home to Altadena, California that the couple decided they couldn't resist the appeal of the slower paced lifestyle in Washington State. After finding their dream home just outside of Kettle Falls, the couple and their two young boys made the move to "Country Living".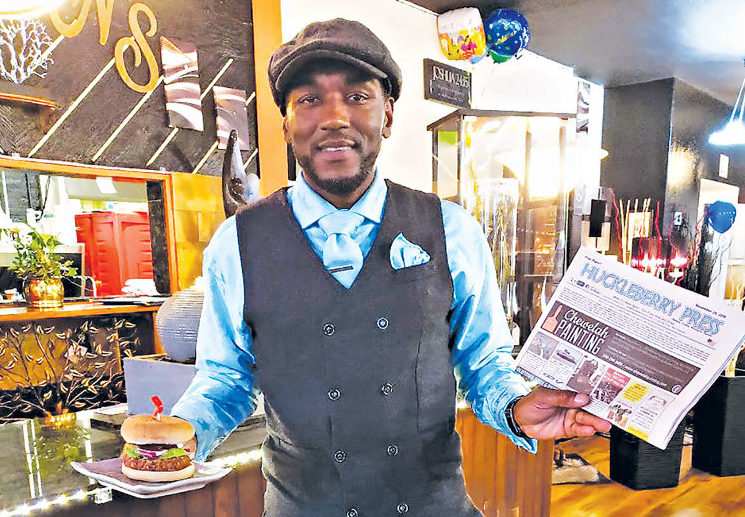 James opened his first business in Colville, in the spring of 2018. Dylan Nathan's Smoothies, named after the couples first son, was a surprise gift to his wife and was a big hit in the community. After the success of his first business, Anthony bought the landmark building that was once the old King Cole's, and started transforming the space. James wanted to provide a one-of-a-kind fine dining experience to the community of Colville. He handled the design of every aspect of the restaurant and even tried to purchase at least one thing from as many local businesses as he could. He wanted to incorporate local resources into Eden's as a way to support and represent the community. 
     When I first toured Eden's, it took my breath away. The modern chic décor, the beautiful waterfall fountains throughout the space, the classical music playing along with the intimate lighting, all add to the experience of Eden's. The food is the icing on the cake as well! I'll admit I had never eaten vegan and didn't know what to expect. I tried the Avocado Burger, and was actually blown away with how beautiful it looked and how good it was! Eden's 100% vegan menu offers a wide selection of healthy choices, with appetizers and side dishes, to plates of pasta, pizzas, and burgers under the entrees. What I think surprised me the most about Eden's was how affordable the prices are, with the most expensive menu item still coming in under $10. When I spoke with Anthony, he told me he wanted to have a restaurant where anyone can afford to eat healthily and also experience fine dining, no matter how much money is in your wallet. 
    Now that Eden's Tree Of Life is officially open for business, I asked Anthony if there was anything he would like people to know. He replied that he wants everyone to feel welcome at Eden's, no matter your race, your status, or the clothes on your back, we welcome all! I think the best part of my visit to Eden's though, was Anthony himself. His warm and welcoming personality was a breath of fresh air! Being a long time resident of Colville myself, with family roots that span multiple generations, the building that is now Eden's is especially near and dear to my heart. I grew up hearing stories from my father and uncles about the many years they played music at the old King Coles, and how my parents first met each other there. So it brings me joy that Anthony has breathed new life into this building that has so much history in its walls so that the community can once again enjoy it. It is my hope that our community enjoys and supports Colville's first vegan restaurant as much as I did.