by Amy McGarry
"Seafood?"

"Yes! Seafood and tires."

I thought I must have misheard Dave Olson, owner of Blue Creek Mercantile. I had asked him what the biggest sellers were at his store near Chewelah. While I had not yet visited Blue Creek Mercantile, I had an image in my mind of a small town mercantile in Eastern Washington. I imagined fabric, animal feed, canning supplies, sugar, flour, and coffee in bulk, and candy. My conception was probably misinformed by all the hours I spent watching Little House on the Prairie as a child. In fact, the Walnut Grove Mercantile from "Little House" was owned by another friendly and kind Mr. Olson. (Remember his awful daughter Nellie Olson who tormented the Ingalls girls?)

Definitely no seafood was sold at that mercantile. No tires, either.

But sure enough, further research on the internet about Blue Creek Mercantile led me to rave reviews about their seafood, tires, and much, much more.

One reviewer said, "Really well stocked for a small store. They bring in fresh seafood from the coast, so we've had lobster tails, cod, and an entire side of salmon this week. We've also bought work gloves, Carhart overalls and boots for the kids here."

Another review added even more insight. "They've got hardware, clothes, some produce alongside a first-rate meat market with choice seafood. There's plenty of dry goods and canned goods – even stuff to do your OWN canning. Plus, lots of ingredients for pickling, sausage and jerky making. They even have gardening supplies and an auto service shop! Prices are fairly decent considering their location and convenience. If they put in a deli, I may have to move here."

I'll bet nobody ever said that about the mercantile in Little House on the Prairie. And Mr. Olson from "Little House" may have been able to provide items for customers' horse-drawn carts, he certainly didn't offer tire installation, tire rotation, wheel alignment, tire balancing, tire repair, and tire pressure monitoring service. But Dave and Nikki Olson at Blue Creek Mercantile sure do! In fact, one reviewer said, "If you want quality mechanic work on your vehicles, this is the place to go."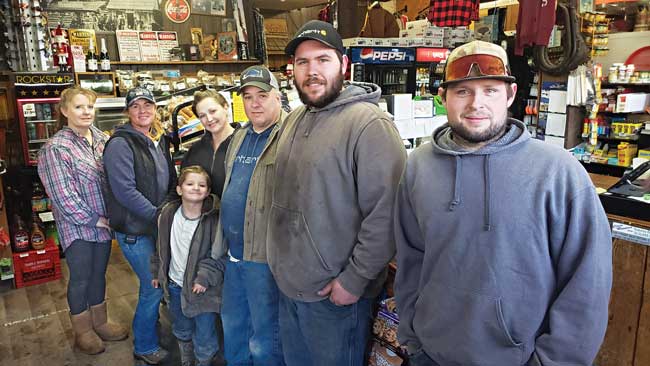 When I was assigned to feature Blue Creek Mercantile in The Huckleberry Press, I was excited. Not just because it brought back memories of Little House on the Prairie, but because my family on my mother's side has deep roots in Stevens County, specifically Blue Creek. I remember my mom mentioning Blue Creek countless times when I was growing up. I secretly hoped the current owner of Blue Creek Mercantile was not a newcomer to the area, but had some history to share. I was not disappointed.

Dave is a third generation Olson to run Blue Creek Mercantile. Dave was able to connect my family to Blue Creek Mercantile upon hearing my grandmother's maiden name, Hixson. It turns out, my great-great-uncle's wife's father, Charles Stanley, was the original owner! That might be more than six degrees of separation, although I find it incredible. Such a small world! But let me get back to the Olsons.

In 1945 Dave's grandparents, Olaf ("Olie") and Helen Olson, moved to the area from North Dakota. Olie had earned some money as a construction worker in the Aleutian Islands which funded the purchase of Blue Creek Mercantile from Charles Stanley. Olie used his construction expertise to build living quarters attached to the store. At the time, the community post office was located inside the store and Helen Olson not only ran the store but served as postmaster.
In 1972, Helen retired and the post office was moved to Chewelah. Olie and Helen's son Ken took over the store. I had the great fortune to speak with Dave's father Ken, now 86, who still regularly visits the store. While Ken admits his memory isn't as sharp as it once was, he shared some lovely stories of his past in Blue Creek. He was 10 or 11 when his family moved to Blue Creek and bought the store. In the 5th and 6th grade he attended Blue Creek School, which closed in the 1960s, sending Blue Creek students to Chewelah. Ken remembers helping out in the store, mostly ringing up items for customers. Did he ring up seafood? I forgot to ask. My guess is the seafood was a later addition to the store's inventory.

Ken married his high school sweetheart, Doris, in 1956. He spoke of their many adventures traveling around the world, but from the tone of his voice, his fondest memories were taking Doris ballroom dancing in Addy and Arden. Sadly, Doris passed away in February of 2020.

Like his father Ken, Dave Olson grew up in Blue Creek Mercantile. He remembers riding his tricycle around the store. (I wonder if he helped himself to the candy sticks like Nellie Olson did on "Little House.") It was only natural that he would eventually own the store like his father, and his father's father before him.

Dave doesn't remember actually meeting his wife Nikki. "We've known each other all our lives." And these days, they share all the responsibilities for running the store.

Despite some inventory problems that all stores are experiencing now, Dave says they manage to find product and that business is growing.

When asked what he likes about running the store, Dave doesn't skip a beak. "The wonderful community." And that's exactly how the community describes Dave and Nikki Olson. "Wonderful people in this bigger-than-little store."
To learn more and get updates about Blue Creek Mercantile visit their FaceBook page at facebook.com/BluecreekMercantile, Here you'll find when seafood shipments and other stock arrive. If you're as lucky as me, you'll see a reference to a first cousin once removed who apparently went to school with Dave Olson. Small world and wonderful community indeed!